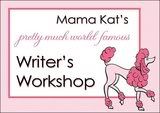 This week I thought it would be nice to take part in Mama Kat's Writer's Workshop. With writer's prompts, I decided to just show you in pictures my response to #2.) Share a photo of what Thanksgiving looks like in your neck of the woods.
Oh, yeah. These are pictures from last Thanksgiving at my house.
What?! It could happen.
Really. It could.

Especially if you picture the boy in stripes is not laughing but burping. Yep. That's my house.